Sip
gel
A Natural Solution
To Deal With Period Pain
Say no to all the inconvenience, hassle, and harmful ways of dealing with period pain.
Learn More
An Easy And The Most Convenient Solution
For Your Menstrual Cramps.
Hassle

-free

Now you don't need to use hot water bags or inconvenient heat patches and devices. Just drink few sips and experience relief.
Quick

Relief

After drinking few sips, you almost instantaneously experience its soothing effects where it gives you internal warmth and relieves you of those cramps.
Replenishes


Vitamins & Minerals

It also replenishes vitamins and minerals lost in menstrual blood as it contains iron, b-complex, vitamin E and more
Relieve Yourself Of Period Pain
In 3 Easy Steps
Feeling The Cramps
Kick-in ?
Shake the Pouch And
Sip
Experience Quick Relief
with internal warmth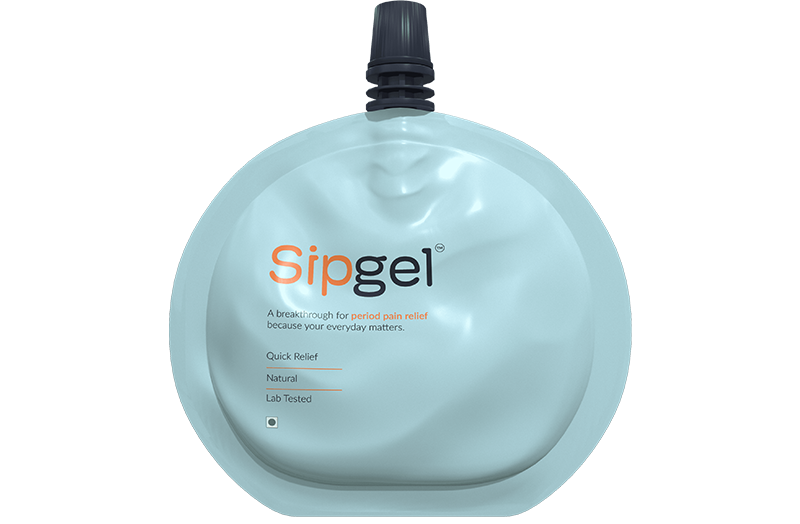 Shake
Open
Sip!
Relieves Menstrual Cramps
Gives Pleasant Internal Warmth
Replenishes Vitamins & Minerals
Buy Now
Muskan Singh
This product seriously puts a smile on face. I never imagined my periods to be so much more than just painful! I can do my tasks so freely because of Sipgel!
Neha Sharma
Sipgel is now my bag-buddy. I carry it every time when I am having my period cramps. It is super easy to carry, and makes my period more comforting.
Shardha Verma
I am a new mom. With the baby and responsibilities of everyday life, period pain made it impossible to carry on actively. But Sipgel changed my perspective towards periods altogether! As a woman and a mother, I feel stronger!
Sneha Rane
Thanks to Sipgel, I can plan my trips and holidays without worrying about the period pain and discomfort. I love travelling and periods often hamper my plans. But now, with Sipgel added to my travel check-list, regular trips have become unstoppable!
Certification & Regulations